Tai Chi Sword Maintenance And Care
Tai chi sword maintenance and care is very important, as not only dose the weapon last longer but also your feeling for the sword becomes more personal.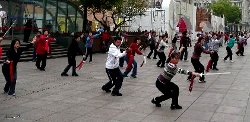 A well maintained and care for tai chi sword can last life times of uses which of course means it can be handed down through generations, which in turn adds pride and sentimental attachment to the weapon.
There are four types of metals used in modern sword construction and they all have different care and use properties.
The main problem with carbon steel is that it rusts. So, maintenance is really about keeping your sword blade out of contact with moisture or the air. ( easier said than done)
List Of Tai chi Sword Maintenance And Care Tips
Sword Cleaning Kits
There is a number of sword cleaning kits available for Tai chi sword maintenance, on the market today and they can be brought easily on line. I would recommend that you buy them as they have all that is needed to maintain and care for your Tai Chi Sword to keep it at its best for long life and performance.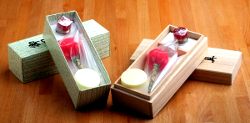 Tai chi sword maintenance is all part of learning the tai chi sword, for more info on tai chi sword, use this link.
Want to keep up to date as new pages are added to this site? click on the RSS feed on the left under the navigation bar.




Back to the Tao Of Tai Chi Home page

The Tao Of Tai Chi Blog keeps you up-to-date with all additions and changes to the Tao Of Tai Chi web site. Subscribe here.
Tai chi movements or forms activates and flows energy through the body.
Tai Chi Chuan styles are many and varied, as are the tai chi forms, still they all follow the basic principles of the tai chi movements.
Tai chi Chen style was the first of the Tai Chi Chuan styles. It was created, as the Ming Dynasty was about to become the Qing Dynasty in 17th century China.
tai chi Yang style has a moderate and easy flowing method of the makes it easily learned by the majority of people and this is why it has such a great following and has become the most popular of all the tai chi styles.
Wu Tai chi, which is also known as Hao style, Taijiquan (Tai Chi Chuan) has a set of strict requirements regarding its practice. From the external to the internal, each requirement is clearly stated.
Sun style tai chi is characterized by lively steps- forward or backward steps are always followed by the other foot.
The function of silk reeling energy is to unify the body and connect the energy throughout the body with the datian so that it can reinforce movements of all parts of the body.
Tai Chi symbol relates to the flow of the opposite energy that makes up the law of the universe.
Tai chi benefits have been studied in more depth over the past 30 or so years, by western medicine which is of course prescribing tai chi now as a low impact exercise. Tai chi exercise reduces stress.
Tai Chi Sword, best tips and hints. At an overall length of about 3 feet, The double edged sword is A good tool to use to judge overall Tai chi proficiency
Tai chi sword maintenance and care, best tips on the web for caring for your sword
Sword Modifying, or how to make a Tai chi sword fit just right for you. Great tips for customizing your sword
How to balance a sword or, a tai chi sword in particular is not as tricky as you may think.
Tai Chi Sword Integrity best tips on how to fix you sword
Sword sharpness comes after sword balance and integrity in the order of the sword, how to.
Tai chi how to is a page that answers some of those how to questions that pop up to do with tai chi. Please if you have a how to question that you would like answered use our contact us page and we will try to answer it for you.
Here are a few great health links we have found for you on the internet. You never know when some of these great health links might come in handy. We will be adding to these links all the time so, come back to check this page out often.
Like to add an article about tai chi? Do it here
Contact the tao of Tai chi
Tai Chi World News, The best up to the minute breaking world tai chi news and headlines. You can even leave a comment and your opinion.