Tai Chi Yang Style
Tai Chi Yang style has a pace that is even and slow, without stopping. The Tai chi movements of Yang style are straight forward and easy flowing. The movement of energy is like the slow circular rotations of the silk worm drawing silk. It's movements and tai chi breathing being natural and unified, Yang style adopts the method of chi chen dantian (sink the chi to the dantian.)
The moderate and easy flowing method of the tai chi Yang style makes it easily learned by the majority of people and this is why it has such a great following and has become the most popular of all the tai chi styles. Surpassing in popularity the Chen, Sun and two Wu styles of tai chi chuan.
Tai chi Yang style moments are relaxed and expansive, the body position is centered and aligned, not inclining or leaning, it's tai chi movements are balanced and agreeable and Contain hard and soft, and combine the lightness in spirit with the heaviness of application.
From training, one attains softness from loosening/relaxing (song ). In accumulating softness one develops hardness; hardness, and softness benefit one another [mutually interact].
The postures of Yang style tai chi chuan can be made either high, middle, or low, according to the factors of age differences, body strength, or differing needs of the student. This makes it a great form of tai chi for seniors and young people alike.
"Taijiquan is the art of softness containing hardness, of a needle concealed in cotton. The postures must be centered and upright, rounded and full, calm and steady, relaxed and tranquil; the movements are light, lively, and curved— a completely marvelous action."
[Quote by: Yang Chengfu]
The postures of Tai Chi Yang style are expansive and open, light yet heavy, natural, centered and upright, rounded and even, simple, vigorous, and dignified, because of this, one is able to quite naturally express an individual style that is grand and beautiful.
Yang Style tai chi is now taught mainly for it's amazing health benefits although it is a powerful combat art in it's self. The reason why people take up this style as a way to health and to reduce stress, is as mentioned earlier, the tai chi postures can be adapted to your need which makes it perfect as a seniors exercise and a tai chi style for the masses.
Yang Chen-Fu's Oral Transmission To Cheng Man-Ch'ing
Relaxation.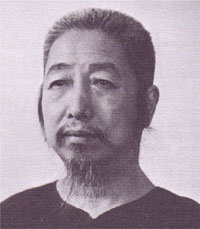 Sinking.
Distinguish full and empty.
The light and sensitive energy at the top of the head.
The millstone turns but the mind does not turn.
Grasp sparrow's tail is like using a saw.
I am not a meat hook, why are you hanging on me?
When pushed one does not topple like a punching bag doll.
The ability to issue energy.
In moving our posture, it should be balanced, upright, uniform and even.
One must execute techniques correctly.
Repelling a thousand pounds with four ounces.
Tai chi Yang Style and more tai chi styles in short, on this page.
Would you like to add an article to this site?, or advertise your tai chi school for free?
Tai chi how to page gives good insight to the new tai chi student and helps chose a tai chi style that is right for you.
Back to the Tao Of Tai Chi Home page
Want to keep up to date as new pages are added to this site? click on the RSS feed on the left under the navigation bar.





The Tao Of Tai Chi Blog keeps you up-to-date with all additions and changes to the Tao Of Tai Chi web site. Subscribe here.
Tai chi movements or forms activates and flows energy through the body.
Tai Chi Chuan styles are many and varied, as are the tai chi forms, still they all follow the basic principles of the tai chi movements.
Tai chi Chen style was the first of the Tai Chi Chuan styles. It was created, as the Ming Dynasty was about to become the Qing Dynasty in 17th century China.
tai chi Yang style has a moderate and easy flowing method of the makes it easily learned by the majority of people and this is why it has such a great following and has become the most popular of all the tai chi styles.
Wu Tai chi, which is also known as Hao style, Taijiquan (Tai Chi Chuan) has a set of strict requirements regarding its practice. From the external to the internal, each requirement is clearly stated.
Sun style tai chi is characterized by lively steps- forward or backward steps are always followed by the other foot.
The function of silk reeling energy is to unify the body and connect the energy throughout the body with the datian so that it can reinforce movements of all parts of the body.
Tai Chi symbol relates to the flow of the opposite energy that makes up the law of the universe.
Tai chi benefits have been studied in more depth over the past 30 or so years, by western medicine which is of course prescribing tai chi now as a low impact exercise. Tai chi exercise reduces stress.
Tai Chi Sword, best tips and hints. At an overall length of about 3 feet, The double edged sword is A good tool to use to judge overall Tai chi proficiency
Tai chi sword maintenance and care, best tips on the web for caring for your sword
Sword Modifying, or how to make a Tai chi sword fit just right for you. Great tips for customizing your sword
How to balance a sword or, a tai chi sword in particular is not as tricky as you may think.
Tai Chi Sword Integrity best tips on how to fix you sword
Sword sharpness comes after sword balance and integrity in the order of the sword, how to.
Tai chi how to is a page that answers some of those how to questions that pop up to do with tai chi. Please if you have a how to question that you would like answered use our contact us page and we will try to answer it for you.
Here are a few great health links we have found for you on the internet. You never know when some of these great health links might come in handy. We will be adding to these links all the time so, come back to check this page out often.
Like to add an article about tai chi? Do it here
Contact the tao of Tai chi
Tai Chi World News, The best up to the minute breaking world tai chi news and headlines. You can even leave a comment and your opinion.